GST on Banking & Other Financial Services: 5 Things You Must Know
Feb 23 , 2018
Posted by
KwikBilling
After struggling for years with the notorious tax system, India has finally come up with clear and better GST system. Eliminating the problem of complexity of various taxes, GST has come up as a rescue for not only businesses but also for banking and other financial services.
So, here we are listing few things that you might know about GSTon banking and other financial services. Take a look: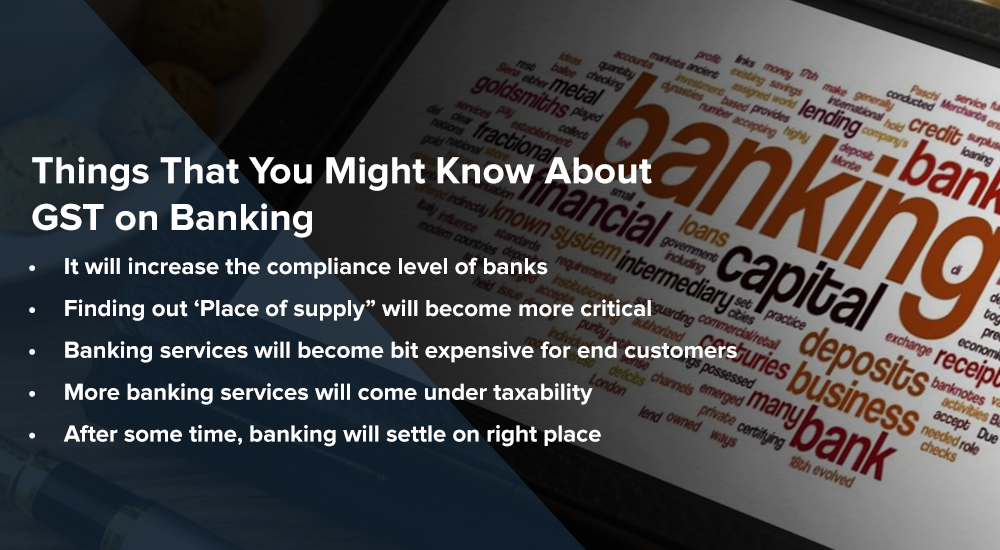 It will increase the compliance level of banks
With the implication of GST now every bank need to get state wise registration in every state in which it has its presence. This will further lead to increase in compliance levels of every bank. And this will directly increase the number of returns of each bank.
Finding out 'Place of supply" will become more critical
As we all know that GST is a "place of supply" tax system in which every transaction needs to get details of its transaction. Thus, it will become bit difficult for banks to determine place of supply which is surely not an easy task. It becomes more tedious when you know that you have never worked on it before.
Banking services will become bit expensive for end customers
With 18% GST rate on all banking services, there is direct 3% increase in the price of banking services. From getting demand drafts to issuing cheque books; everything will now become expensive especially for the retail end customers. The new GST norms are as difficult for banks to understand as for the common man.
More banking services will come under taxability
Now, when we know that banking is not restricted to just cash transactions, there will be lot more banking products and services that will charged under GST taxation system. Any banking service that has not been categorized under banking goods and commodity will now becomes taxable under the banking service category.
After some time, banking will settle on right place
Definitely, it is not easy to complete you whole working procedures in a day but after some time everything will surely settle on right place. As if for now banks only need to work on their policies and procedures in according to GST and slowly everything will come again in smooth flow.
Believe it or not but yes it is true that till now GST is one of the most innovative steps that have been taken in the history of Indian economics. It might be bit confusing initially but soon it will make the tax system clearer and better. And to help you with its concepts, the internet is full of blogs and articles that can help you get its better understanding.