22nd GST Council Meeting: Top 5 Updates You Must Be Aware Off
Oct 18 , 2017
Posted by
Raj Kamal
Short for Goods and services tax, GST was first proposed in the year 2000 and after a total of 17 years it was implemented. It has been criticized as much as it is appreciated. While the actual impact of GST is yet to be seen because economy takes time to reflect; we can however expect it will bring good yields for all; after all it has been proposed, implemented and maintained for the benefit of all; reducing the burden of tax where it was not required and adding wherever it required to be.
The rules and regulations regarding GST keeps changing in order to be according to the contemporary context and be fruitful. Latest updates –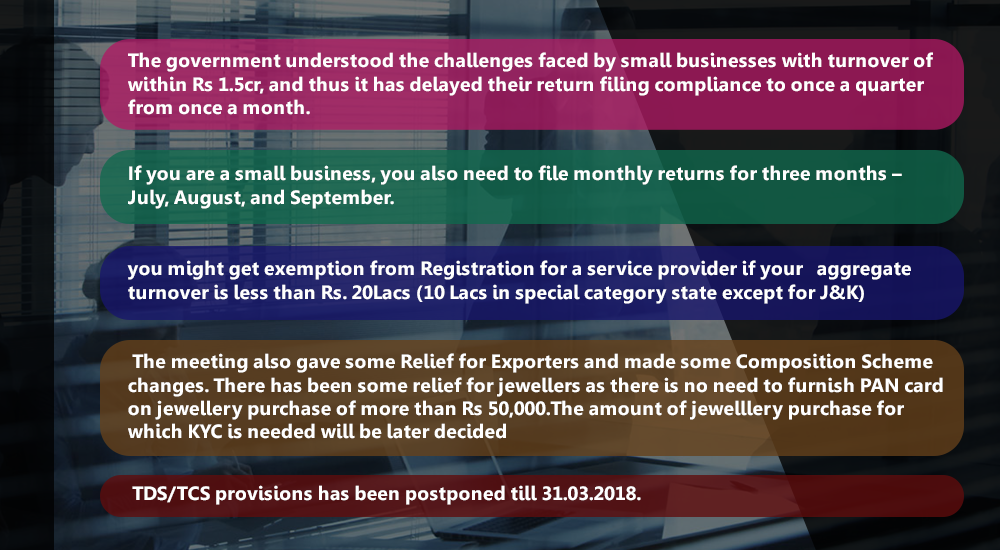 The government understood the challenges faced by small businesses with turnover of within Rs 1.5cr, and thus it has delayed their return filing compliance to once a quarter from once a month.
If you are a small business, you also need to file monthly returns for three months – July, August, and September.
You might get exemption from Registration for a service provider if your aggregate turnover is less than Rs. 20Lacs (10 Lacs in special category state except for J&K)
The meeting also gave some Relief for Exporters and made some Composition Scheme changes. There has been some relief for jewellers as there is no need to furnish PAN card on jewellery purchase of more than Rs 50,000.The amount of jewellery purchase for which KYC is needed will be later decided.
TDS/TCS provisions has been postponed till 31.03.2018.
These are just some of the basic things decided on the meeting. The GST rules and regulations often get revisions to make them apt and according to the context.